---
---
---
---
---


Reserve your spot now!

If you provide legal support services, you may list your business information here for $99.99.

Your listing will be good for two (2) years

. And, if you provide Process Server (constable) or Notary Public services in Massachusetts,

we will refer calls to you whenever we need assistance in your service area.
Twice a year we send a pamphlet out to more then 275 attorneys in Massachusetts that describes our services and contact information of service providers by town/city. For example, if an attorney who recieves the pamphlet needs a process server in Worcester, the attorney can easily refer to the pamphlet and find the names and telephone numbers of process server's in the Worcester area!

Why would we allow our competitors to advertise on our website? Simple! We believe that in order to provide the best legal support services, legal support professionals should work together. If we worry about competition, it will distract us from what is really important:
quality service.
Therefore, if you would like to advertise your services on our popular legal support website, be sure to let us know. We guarantee that your business information (and/or logo) will remain active for two (2) years from the date you sign up.


NOTICE: A Massachusetts Process Server and/or Notary Public business will appear before all out-of-state listings. If you don't want us to list your services online, you can request that we only add your information in the pamphlet that is circulated to more then 75 law firms in Massachusetts twice a year.



To Sign Up

Click on the yellow sticky note above to send us your information. If your company uses a logo or banner, please email it to: directory@ips-notary.com .

We will create a simple banner/logo for those who do not currently have one.

Then, pay the $99.99 fee:





---

Process Servers: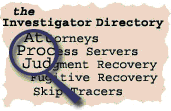 Process Server Directory
Notary Public Links:













Misc. Links (law, court, general links):


RealEstateBig.com - The Real Estate Directory

-----

Law

Massachusetts Business Directory
solicitors in Glasgow


Website and all contents © Copyright Korey Humphreys 2010, All rights reserved. This website is best viewed using Internet Explorer.