---
---
---
---
---
All questions regarding out-of-state (foreign) subpoenas
should be sent via email.
---
Deposition Subpoena For Out-of-State Case:
If your case is being heard in another state and you need to take the deposition of a witness residing in Massachusetts, we can help. Our office can (1) draft, (2) issue, and (3) serve a deposition subpoena upon the witness requiring his or her attendance at the deposition you must arrange.

In accordance with M.G.L. c. 233 § 45:

"[a] person may be summoned and compelled, in like manner and under the same penalties as are provided for a witness before a court, to give his deposition in a cause pending in a court of any other state or government. Such deposition may be taken before a justice of the peace or a notary public in the commonwealth, or before a commissioner appointed under authority of the state or government in which the action is pending. If the deposition is taken before such commissioner, the witness may be summoned and compelled to appear before him by process from a justice of the peace or notary public in the commonwealth."



In order to obtain a deposition subpoena for your out-of-state court case, you must follow these three steps:
STEP ONE
-- Arrange to take deposition:



The first thing you need to do is contact a company or individual in Massachusetts that provides deposition services and arrange for the taking of the deposition.

We do not take depositions

. We can only issue subpoenas and serve it upon a witness. We recommend the following deposition service:



Boston Area:



Springfield / Pittsfield Area:



STEP TWO -- Obtain permission from the court:

The second thing you must do is obtain a commission from the court where the case is being heard. The court must give you permission to take the deposition. Normally, you would ask the court to appoint the deposition service company you chose in step one to take the deposition of the witness residing in Massachusetts. The person or company appointed is considered a "commissioner".

Want to see an example of a commission issued by an out-of-state court?



Click here to see a valid commission issued out of Florida.






TIP

(not required):

The commission should authorize a notary public to issue the subpoena. In Massachusetts, a notary public has the authority to issue subpoenas including deposition subpoenas for out-of-state cases (see above cited law).

The commission should contain the following text, or something similar:


"Any notary public or justice of the peace of the Commonwealth of Massachusetts is hereby authorized to issue a subpoena in accordance with the Massachusetts Rules of Civil Procedure to require the attendance of __(witness/company)__ to appear for the deposition [and produce specific records in his/her/their possession or control] . . . "





STEP THREE

-- Ask us to draft, issue and serve a subpoena:

Once you receive the commission from the court, you can
simply fill out the online subpoena request form below. If you email us, be sure to provide us with the following information:

Witness Information (name, address, etc.);
Date the witness must appear for the deposition;
Time witness must appear for the deposition;
Location of the deposition;

Before whom the deposition is to be taken

IMPORTANT THINGS TO CONSIDER:
If you require the production of documents or other tangible evidence at the deposition, you must give the deponent at least 30 days to comply. This is commonly called the "30 Day Rule" and is mandatory under Massachusetts Rules of Civil Procedure.
A 'Notice of Deposition' must be given to the witness. This 'Notice of Deposition' can be served at the same time we serve the deposition subpoena. It is best that you provide the 'Notice of Deposition' for us to serve. In the event you want us to give notice, the cost is $10 per notice.
The witness is not required to attend the deposition if it is more then 50 airline miles to the place of deposition. This can be calculated from the witnesses home or place of employment.
Although it rarely ever happens, if a witness is served with a deposition subpoena and refuses to appear and/or testify at the deposition, either you or the appointed commissioner may file a contempt complaint in the Superior Court to compel the witness to obey the subpoena.
---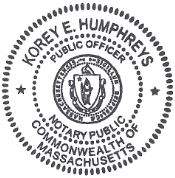 Request a Subpoena For Out-of-State Case
---
NOTE:

We will

email you

to confirm receipt of every subpoena submitted through this site. We draft, issue (notarize), attach witness fee to, and serve subpoenas. We do not take testimony or open/file anything in our local Courts. It is your responsibility to set up a place and time to meet with a court reporter or file in Court if required. Once service has been effectuated, the subpoena and Return of Service are faxed or emailed to you. All original documents are mailed to your office (or home address if acting
pro se
).
After you send the information in this form to us

, we will determine the total fee(s) and will email you with instructions on where to send a check or money order. Your payment will have to be received

BEFORE

we send the original subpoenas to your mailing address.



FYI:

Though not required, it is common practice to send the Commission and payment via FedEx Overnight delivery. The address will be provided in our email confirmation.
---
---
---
Request Subpoena by E-Mail


If you would rather fill out the PDF form below to send us the information necessary to issue a Subpoena, please fill out the Subpoena Request Form below and e-mail it to us.







Once we receive your e-mail, we will reply to it and provide you with further instructions.

In order to view PDF files, you will need to have Adobe Reader. To download and install a free copy, click on the image below.



There are no set fees for out-of-state subpoenas. The price would have to be determined once we receive the information. The price will include everything:


(1) drafting
(2) issuing
(3) serving (process server)
(4) payment of witness fees
Starting fee is typically: $298.75
---
Required Witness Fee:

A witness fee must be paid to each witness that receives a deposition subpoena. It must be given at the time he or she is served.




---
Subpoena Compliance Fees:


The law allows a business, or other entity, to charge a reasonable fee for the producing of books, papers, documents, or other tangible things designated in a Subpoena Duces Tecum. The amount charged is usually referred to as a

"Subpoena Compliance Fee"

.

Make sure you ask the business or entity who you need records from if they charge a fee. This fee, however, has nothing to do with the issuing authority or process server.




---






Website and all contents © Copyright Korey Humphreys 2002-2019, All rights reserved.

www.IPS-Notary.com/massachusetts-divorce-subpoena.html
www.Massachusetts-Subpoena.com
www.IPS-Notary.com/massachusettssubpoena.html