---
---
---
---
---

M
OBILE
N
OTARY
PUBLIC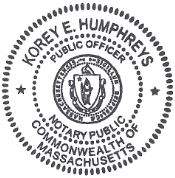 WHAT IS A NOTARY PUBLIC?

A Massachusetts Notary Public is an official of integrity appointed by the Governor to serve the public as an impartial witness in performing a variety of official fraud-deterrent acts related to the signing of important documents. These official acts are called notarizations or notarial acts. Notaries are publicly commissioned as "ministerial" officials, meaning that they are expected to follow written rules without the exercise of significant personal discretion, as would be the case with a "judicial" official.
It is the foremost duty of a Notary to screen the signers of particularly sensitive instruments --- such as property deeds, wills and powers of attorney --- for their true identity, their willingness to sign without duress or intimidation, and their awareness of the general importance of the document. Some notarizations also require the Notary to put the signer under oath declaring under penalty of perjury that the information contained in a document is true and correct.
Impartiality is the byword of the Notary Public office and the foundation of its public trust. Notaries are duty-bound not to act in situations where they have a personal interest. The public trusts that the Notary's critical screening tasks hhave not been corrupted by self-interest. And impartiality dictates that a Notary Public never refuse to serve a person due to race, nationality, religion, politics, sexual orientation or status as a non-client.
As official representatives of the state, Notaries Public certify the proper execution of many of the life-changing documents of private citizens --- whether those diverse transactions convey real estate, grant powers of attorney, establish a prenuptial agreement, or perform the multitude of other activities that enable our civil society to functon.
In this modern era when business transactions between complete strangers are the norm rather than the exception, Notaries Public engender a trust that the critical signed documents we rely on are authentic. Such trust enables the sensitive documents of commerce and law to be exchanged between strangers with full confidence in their reliability.

WHAT IS A MOBILE NOTARY PUBLIC?

A Mobile Notary Public is a commissioned Notary who is willing to travel to your designated location to perform notarial acts. Should you be in need of having a document(s) notarized, all you have to do is schedule an appointment with us and a Notary Public will contact you to set up a brief meeting.
A mobile Notary Public will travel to meet you anywhere, whether it be at a local Dunkin Donuts, your home, office, hospital, your local bank, realtors office, title company, public library, police station, nursing home, etc., at a time convenient to you. Just fill out the form below and a Notary Public will call or email you to make arrangements.



MOBILE NOTARY FEES
Our starting location is Town of Ayer (zip code 01432)
1-5 miles

$25

(includes travel fee)
6-12 miles

$40

(includes travel fee)
13-20 miles

$55

(includes travel fee)
21-30 miles

$65

(includes travel fee)
31-45 miles

$80

(includes travel fee)
45+ miles

$100

(includes travel fee)

Prison -- Inmate -- Jail


~ Souza Baranowski Correctional Center
(Shirley, MA)
~ Federal Bureau of Prisons
Federal Medical Center (Devens, MA)


$125


(includes travel + clearance + wait)

Sunday / After Hours / Holiday




After Hours = Anytime after 6:30 PM

Add $30

to fee above
---
REQUEST MOBILE NOTARY SERVICES
Need a Notary Public to come to you? All you have to do is fill out the form below and one of our Notaries Public will contact you via email or phone (most likely email) to make arrangements to meet with you at your convenience.
---
---
Common documents we notarize:
Power of Attorney, Travel Permission Letter, Divorce Paperwork, Separation Agreements,
Health Care Proxy, Will, Bank Documents, Property Deeds, Motor Vehicle Documents, Applications, Passport , Certified Copy, Contracts, Bill of Sale, Subpoena, Work Visa, School Transcripts, Affidavits, Witness Statements, Depositions, Apostille, Trusts, Deeds, Quit Claim Deed, 14 Day Notice to Quit, Eviction Notices, Notice of Trespass, etc.
LEGAL DISCLAIMER: The jurisdiction and commission of the notaries public comply with G.L. c. 222 § 1. A notary public is an officer of the Commonwealth of Massachusetts and must conduct his or her duties only in Massachusetts. Notaries cannot offer advice concerning a document and/or transaction

unless

he or she is an attorney licensed to practice law

or

is trained in that particular field or industry.